Why Rent a Photo Booth?
1. People Love Photo Booths!
Kids of all ages, including adults, love photo booths. People are naturally drawn to them. Events that have them are thought of to be more fun, and they have that extra magic about them. Guests will be talking about what a great idea it was and they often consider it for their next big event. Yes, we do get a lot of business this way!

2. Unlimited Photos Create Countless Memories
Since all photos are included in the packages you and your guests do not have to worry about any constraints. The smiles and funny faces are non-stop.

3. Allows for more people to be Photographed
In most settings with a medium to large gathering it is often difficult for a photographer to get photographs of everyone. Having a photo booth at your event will virtually ensure everyone gets their photo taken which is great for you and your guests. And of course there will always be those few who seem to be in hundreds of photos. The photo booth is a great compliment to a traditional photographer.

4. Value
The value of what a photo booth brings to your event is priceless. That being said, rentals are a great purchase for the price.


Why Rent a Photo Booth from The Wilmington Photo Booth Co.?
1. Our Prints
Our printer promises to deliver clear, vibrant photos that are fade resistant. And it is designed for high volume, so no matter how large your event is we can handle it. The strips print in as little as 8 seconds after the session ending so your guests don't have to wait around or come back for their prints. The graphic and text are of high quality and are fully customizable.

2. Our Photo Booth
Our photo booth is readily portable and breaks down easily which leads to quick set-up and breakdown times. We can virtually get the photo booth anywhere! The colors and overall decor of the photo booth is mainly neutral so it compliments any setting well. The photo booth is designed to allow for a larger amount of people to be in the photo, which (combined with the wide angle lens feature) can create greater memories. Most other photo booth companies are limited in how many people can get in a shot. The most you will see is 4 or 5 if you are lucky. Our record is 21! We also feature an external monitor which displays all the photos that have been taken at the event in slide show format. This draws even more attention to the photo booth.
3. More Options
We offer black and white or color prints, as we have two buttons in our photo booth for either which makes our photo booth very user friendly. We offer prints in 4x6", 5x7" and 6x8" sizes, and you can choose either photo strips or postcard format. We personalize the screen message, as well as the text and graphic on the prints for your event. We offer memory books customized with your choice of color, design, and text. We have 3 different prop packages (party, beach, or customized props). We also offer acrylic frames, place cards, save the date magnets, thank you notes, and a you & me strip. The list continues with dry erase paddles that your guests can write personalized messages on. We even have a wide angle lens which attaches quite easily, so for any photo with a large amount of people we can quickly make the change and then change it back.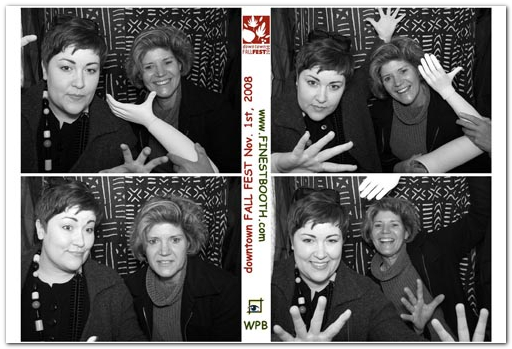 4. Photo Accessibility
They're your photos and you can have them! We put all the photos (including prints with customized graphic & text!) from the event onto our website and all your guests can log in with a specialized event id and password to view their photos. This is especially important for those who want multiple copies of their photos, or if they accidentally lost their print at the event. They can also order prints and merchandise of their favorite photos. What sets us apart is that we do not watermark the photos or only give you the thumbnail size. Many other companies force you to buy the prints to see the full version. You and your guests will have full access to three different sizes of each photo within 48 hours after the event has ended.
5. Localized Support
We are local and respond quickly to all of our customers. We do not ship you the photo booth and hire someone locally to attend the event. Included in the price is an event specialist who is there to oversee the photo booth during the whole event. We are there for you every step of the way.
6. Peace of Mind/Professionalism
This is our full time business. We are not also an event planner nor a chocolate fountain company, nor are we plumbers by day. This means our full attention and focus is on our business and you. This shows in the product we deliver. Also we are fully licensed and insured, which many venues require.
7. Value
We are competitively priced and we give you more for less! Please call us at
(302) 388-3619 or visit our Rental Packages/Rates page for pricing information.
---
| | |